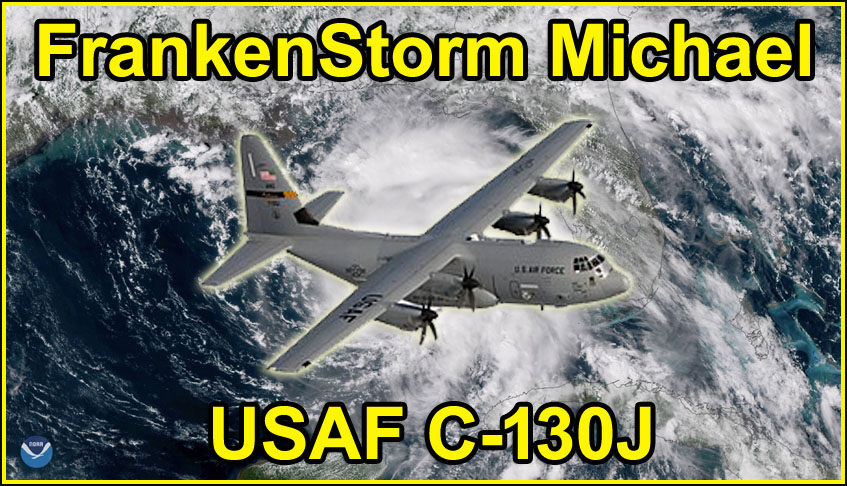 Did the Air Force Weaponize Hurricane Michael?
by Harold Saive
Why Is the Military Doing NOAA's Job?

For years the public was told that a NOAA Hurricane Hunter aircraft would fly into a storm to measure intensity.  So, why is it necessary for the US military to be involved in Hurricane tracking when NOAA is already funded to do the job?
Narrator: "NOAA's hurricane hunter fleet includes two P-3 turboprop aircraft as well as a Gulfstream IV jet. The P-3s fly through the storm, encountering devastating winds that can be over 150 miles per hour. The jet can fly higher than the turboprops, gathering data from the upper atmosphere. Both planes have high tech equipment on board to get the job done, like radar and fixed probes that measure particles in the air." 

________________________________
Aircraft emission "trails" Inside the Eye of Hurricane Michael
It's now established that aerosols injected into tropical systems and hurricanes can increase wind speeds and promote flooding. The perpetrators of weather weapons can be identified when aircraft are seen spraying aerosols into hurricanes where destructive wind speeds increase to near Category 5.
Research published by the American Meteorological Society in 2010:
"In warm moist atmospheres, aerosols often invigorate deep convective clouds, usually resulting in greater electrical activity, stronger damaging winds, and a greater likelihood of flash floods. Studies indicate that aerosols might also modulate the intensity of tornadoes and hurricanes."
In 2015 Stars and Strips reported the USAF has up to 200, C-130J aircraft capable of spray missions that conceivably include weather modification aerosols. The issue of plausible deniability through "compartmentalization" is raised whenever military aircraft participate in weather "research" where NOAA – a civilian government agency is charged with prime responsibility.
Global Demand for C-130J on the Rise
The Lockheed Martin flight line ramp in Marietta, Ga. is a busy place these days. The aircraft in this picture offer a glimpse of the operational and international range of the program's growing customer base. From right to left: Indian C-130J, Canadian CC-130J, United States Marine Corps KC-130J, United States Air Force (USAF) Air Combat Command HC-130J, Canadian CC-130J, USAF Dyess Air Force Base C-130J and Canadian CC-130J. (Lockheed Martin)   (2,500 C-130's Produced)
________________________________
Comments from Gen. Renuart, U.S NORTHCOM commander.
B-roll of civilian and military personnel in Greenville, SC April 26th to May 1st, 2010 for certification and recurrent training in the Modular Airborne Fire Fighting System (MAFFS) program. MAFFS is a partnership between federal land management agencies and the military to provide supplemental air tankers to assist in fire suppression efforts nationwide during times of high activity. Scenes include a C-130H, with a Legacy MAFFS system, and a C-130J, with a MAFFS II system, perform an aerial demonstration for local media outlets. Gen. Renuart, U.S NORTHCOM commander, is briefed on the C-130J aircraft with the MAFFS II sytem. Gen. Renuart comments on the MAFFS exercise. Gen. Renuart greets a delegation from Thailand's Royal Thai Air Force, which was observing the MAFFS exercise. Produced by SSgt Burt Traynor
_________________________
Is Weather Modification Driving Demand for the C-130J ?
Washington, D.C. 12/14/2015: – "Today, U.S. Senator Rob Portman (R-OH) was joined by Senator Sherrod Brown (D-OH), Congressman Tim Ryan (D-OH-13), Congressman Bill Johnson (R-OH-6), and Congressman Dave Joyce (OH-14) in urging the United States Air Force to replace the Youngstown Air Reserve Station's (YARS) 910th Airlift Wing's current fleet of C-130H aircraft with new C-130J aircrafts to ensure that the 910th's Department of Defense (DoD)-mandated specialized aerial spray mission continues safely and without interruption." (More)

_________________________
The USAF C130J is the newest generation of the C-130 Hercules which primarily performs the tactical portion of the airlift mission. Capable of aerosol spray missions. (hurricanehuners.com)
WC-130J Hercules: Another critical piece of weather equipment on board the WC-130J is the dropsonde system.(403wg)
Loading a Modular Spray System Into the Lockheed C-130J
This appears to be a dedicated firefighting installation but could be much more
U.S. Air Force Reserve's Swing-Role C-130J Hurricane Hunters
The mission is summed up by one airman as "earth, wind and fire," because its C-130s often double as airlifters and special-purpose aircraft assigned to weather reconnaissance, aerial firefighting and spraying duties.
The WC-130J on hand, Tail No. 85307, is one of 10 Weatherbirds assigned to the tactical airlift wing at Keesler AFB, Mississippi. Reporting to the National Hurricane Center in Miami, the aircrews crisscross the four-engine turboprop through the eyes of tropical storms and hurricanes, reportedly improving the accuracy of weather prediction models by 20-30%. The WC-130J was joined at Andrews by an AFRC C-130H aerial firefighter from Peterson AFB, Colorado, and an aerial spraying aircraft from Youngstown Air Force Reserve Station, Ohio.?
http://aviationweek.com/defense/us-air-force-reserve-s-swing-role-c-130j-hurricane-hunters#slide-0-field_images-1474941
____________________

Three (3) NOAA Hurricane Hunters
https://www.omao.noaa.gov/learn/aircraft-operations/about/hurricane-hunters
NOAA's two Lockheed WP-3D Orion four-engine turboprop aircraft, affectionately nicknamed "Kermit" (N42RF) and "Miss Piggy" (N43RF), probe every wind
NOAA's Gulfstream IV-SP (G-IV) which can fly high, fast and far with a range of 4,000 nautical miles and a cruising altitude of 45,000 ft., paints a detailed picture of weather systems in the upper atmosphere surrounding developing hurricanes. The G-IV's data also supplement the critical low altitude research data that are collected by NOAA's P-3s .
NOAA aircraft in the hangar at the NOAA Aircraft Operations Center in Lakeland, Florida.
The P-3s and G-IV are based at NOAA's Aircraft Operations Center (AOC) at MacDill Air Force Base in Tampa, Florida. AOC is part of NOAA's Office of Marine and Aviation Operations, which includes civilians as well as officers of the NOAA Corps, one of the nation's seven uniformed services.
________________________
Photo C-130J Air Force Reserve Command on ground with 2nd 130j landing.
!https://en.wikipedia.org/wiki/Lockheed_WC-130#/media/File:Lockheed_Martin_WC-130J.jpg
________________________
Weather Modification Patent Generates Water Vapor (PDF)
___
http://www.newsparadigm.org/2018/10/19/did-the-air-force-weaponize-hurricane-michael/